| | |
| --- | --- |
| | FREE Entry for kids under 13 |
| | FREE General car parking |
| | Trade zone and food outlets |
| | Radio Oulton on 87.7FM |
| | FREE Sunday Pitwalk 10.35am |
| | Giant TV screens - Raceday only |
Watch the TV advert: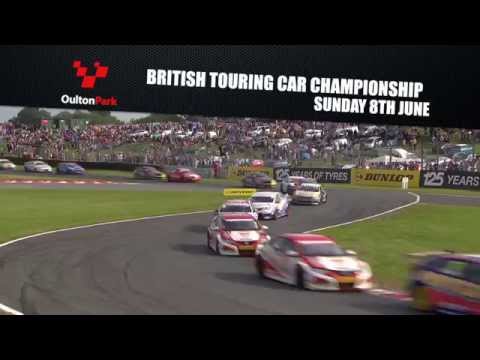 BTCC Highlights:
Dunlop MSA British Touring Car Championship
Oulton Park (Island)

Saturday 08 - Sunday 09 June 2013
The BTCC season gets into its stride at the picturesque Oulton Park circuit this weekend! The Cheshire venue is known as the championship's most challenging round, with a win here coveted by all of the drivers. The term 'Oulton specialist' is worn as a badge of honour by all those who have earned it! The circuit has also seen some of the championship's fiercest racing and most memorable moments, with popular overtaking spots at Old Hall, the Island hairpin, Knickerbrook and Lodge.
This season has seen the return of 2009 title winner Colin Turkington to the fold, making it four champions in the field. Old rivals Matt Neal and Jason Plato, plus reigning champion Gordon Shedden will also face stiff competition from the rest of a packed field, including title contender Andrew Jordan.
Meanwhile the action remains as intense as ever, with bumper-to-bumper racing and all the thrills and spills associated with Britain's biggest car racing championship! Expect plenty of action from some of the country's best championships on the support bill too.
ADVANCE BOOKING HAS NOW CLOSED. TICKETS WILL BE AVAILABLE TO PURCHASE AT THE GATE.

PLEASE NOTE: If you have ordered advance tickets you will need to bring your original tickets to the circuit as copies and receipts are not accepted. All advance tickets have now been dispatched and were sent by either Recorded or Special Delivery, meaning a signature is required. In the rare instance that your tickets have not arrived in time you will need to purchase them at the gate price and obtain a refund after the event by returning the gate ticket stubs and your original tickets to the venue office. Please have your tickets separated before arriving at the gate.
This event will feature British Touring Cars, the Porsche Carrera Cup, Dunlop MSA Formula Ford Championship, Ginetta Supercup, Ginetta Juniors and the Renault Clio Cup.
There will be a free of charge pit walk and driver autograph session at 10.30 on Sunday, followed by a driver parade around the circuit at 11.30.

A new adventure playground is due to open in time for the BTCC this weekend near the trade village by Chequers Restaurant. A funfair and free face painting for kids will be also available in Chequers throughout the weekend.

There's a marquee bar by Chequers Restuarant that will be open each night. Plus, on Saturday evening, there will be a special Autosport XK event in the restaurant with interviews and a live Q and A session with top drivers including Jason Plato and Frank Wrathall. This will commence at 18.30 on Saturday, with a disco afterwards.

Canadian Grand Prix
We will be screening the Canadian Grand Prix in Chequers restaurant at the close of racing on Sunday. The race starts at 7pm.
Click here for general circuit information, including directions, accommodation and address/contact details.
What time do the gates open?

Gates open at 7am on each day.

How much does it cost to park?

Parking is free of charge for all public car parks.
Where are the camping facilities?
Please be advised that all camping facilities have now relocated to behind Old Hall corner. Anybody wishing to camp will need to enter the circuit via the Eastgate entrance, where a member of staff will direct you to the relevant camping area.

Click here to view a map of the campsite and facilities.
What time does the campsite open?

The campsite opens at 1200 on the day preceding the first event day. The campsite closes at 2100 on raceday, after which time no facilities are available. Campers will be required to vacate the campsite by 1200 the day after raceday.
Is there free WiFi available at the venue?

You can access free WiFi at the restaurant(s), pit lane and main grandstand areas. Registration is required.

Am I entitled to any discount for being a carer?

Carers of our disabled guests may be entitled to free admission at MSV race events. Please contact our call centre on 0843 453 9000 for further details, no later than three days before the event you wish to attend.

Is there Disabled Parking and Viewing available?

Blue Badge holders may park free of charge inside the venue in the disabled parking and viewing area at Knickerbrook.

What happens if my tickets don't arrive in time?

All tickets are sent by Royal Mail Recorded or Special Delivery, meaning a signature is required. In the rare instance that your tickets have not arrived in time you will need to purchase them at the gate price and obtain a refund after the event by returning the gate ticket stubs and your original tickets to the ticket office at the address below:

Ticket Office
MotorSport Vision Centre
Brands Hatch Circuit
Fawkham
Longfield
Kent
DA3 8NG
Are animals permitted anywhere on site?

No animals are permitted anywhere on site. Guide dogs are the only exception.

I have a Grade D ticket. Where can I find a list of events and can I upgrade my ticket?

You can find a list of eligible Grade D events by clicking here.

What is MSV's ticket refund policy?

The ticketholder shall only be entitled to a refund or exchange (at MSV's election) if an event is cancelled in its entirety prior to its commencement of the Event for reason(s) that are within the reasonable control of MSV.

Event tickets may not be sold, resold, donated, transferred or in any way disposed of without prior written permission from MSV.
What is the policy on Drones or UAVs?
Drones / UAVs are not permitted for use at Oulton Park on any event day.
TICKET UPGRADES:
Trackside Lounge Upgrade
@ £85 
Includes shared access to a Fogarty Moss suite on Sunday 9 June, with superb views of one of the most dramatic parts of the race circuit, plus privileged parking, buffet lunch, race programme and TVs showing the race feed. UPGRADE AT THE FOGARTY MOSS CENTRE OFFICE.
Platinum Hospitality featuring Q+A with Mat Jackson
@ £174 
Hospitality Includes: privileged parking, entrance tickets into circuit and suite, official programme, morning coffee with English and Continental breakfast options, three course buffet lunch, afternoon tea and cakes with sandwiches, complimentary bar serving wines, beers, soft drinks and selected single measure spirits. Call 01474 875224 for details.